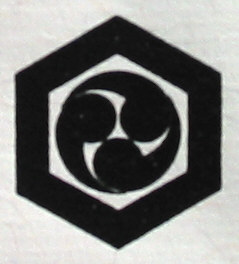 JAPANESE PRINTS
A MILLION QUESTIONS
TWO MILLION MYSTERIES
Ukiyo-e Prints
浮世絵版画
Port Townsend, Washington
UTAGAWA KUNIYOSHI
歌川国芳
うたがわくによし
One print from a series of comical representations of the
108 Heroes of the Suikoden
Kyōga Suikoden gōketsu hyakuhachinin
狂画水滸伝豪傑一百八
Date: Early 1830s
Publisher: Kagaya Kichiemon
加賀屋吉右衛門
かがやきちえもん
Size: 14 7/8" x 10"
Illustrated:
Another copy of this print is shown on line at the Boston Museum of Fine Arts
web site. It is from the William Sturgis Bigelow Collection -
accession number 11.36747a-j
Condition: Good color. Backed. Horizontal center fold. Color has been restored to areas where there were several small worm tracks.
$540.00
SOLD!
This print is from a set of ten. This is number seven.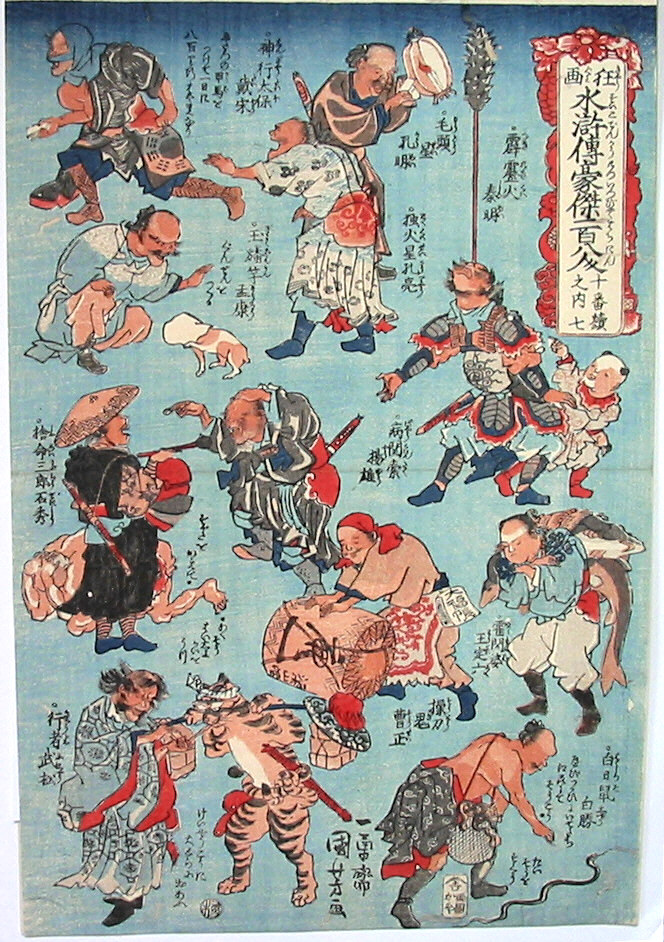 AN INTERESTING ATTEMPT

AT RESTORATION:

A LEARNING EXPERIENCE

A LESSON IN CONNOISSEURSHIP

The publisher's seal shown immediately above is from a different Kuniyoshi print in this series. However, this seal is unrestored and original and offers a good contrast to the one featured on this page. (Click on this seal to see the other Kuniyoshi print.)

Above is a detail of the publisher's seal on this print. As you can see there was a worm track which cut into the lower right of the printed seal itself.

In the detail shown above we have highlighted the worm track in red. That means that the two characters in the lower right have been replaced.

國 versus 国

Until further notice I am going to go out on a limb here. The issue is the accuracy of restoration of the worm track which runs into the lower right quadrant of the publisher's seal on this print. As best I can tell the only Kagaya Kichiemon seal which appears on the prints of this series is the one shown in the center box above. Then why does the inked in area of the missing kanji display a different character? I'll tell you: Because in Nelson's Japanese-English Character Dictionary (2nd edition, p. 261, #1037) there are four variant forms of the kanji for "koku" or country. Unfortunately I was unable to find more than two of them while searching the Internet and the one shown above is not the exact form used in this publisher's seal. It is only the closest example.

However, even that tells us something. The restorer was familiar with at least these two versions. But why the mistake? I am only speculating, but it may have been due more to an oral transmission of the word 'koku' and not a visual comparison. Working without a model the restorer may have mentally tossed a coin and hoped for the best.

Below are all four examples of which only one would be correct. But the restorer goofed and picked the wrong form. This is a minor point, but interesting all the same.
SHINKŌTAIHŌ TAISŌ

神行太保戴宗

しんこうたいほ.たいそ

CHINESE NAME: DAI ZONG

(or Tai Chung or Tai Tsung)

NICKNAME: THE MARVELOUS TRAVELER

In chapter 36 of the "Outlaws of the Water Margins" we are introduced to Taisō, aka Dai Zong. He is the superintendant of two prisons. "Because he knows some Taoist magic and can walk eight hundred li in a day, everyone refers to him as 'the Marvelous Traveller'."(1)

WHAT IS THAT ON HIS RUMP?

IT IS CALLED THE PA KUA -

OR SOME VARIANT THEREOF.

八卦

はっけ

According to C. A. S. Williams the pa kua or 8 trigrams is a cabbalistic chart of straight lines arranged in a circle. Its original form may have been derived from the patterns of a tortoise shell. Fu Hsi, a legendary Chinese emperor, is said to have created this form. Supposedly it was related to the two primary forms, i. e., yin-yang.

Williams states that Chinese mathematics may have developed out of the eight diagrams "...which figuratively denote nature and its cyclical changes." Basically all of this led to the "Canon of Changes" or I-Ching.(2)

The I-Ching is referred to as the Ekikyō (易経 or えききょう) in Japan.

Above is a detail from another print by Kuniyoshi

of the same character and showing the same use of the

pa kua.

1. Outlaws of the Marsh, by Shi Nai'an and Luo Guanzhong, published by The Foreign Languages Press, Beijing, 1993, Vol. II, p. 168.

2. Outlines of Chinese Symbolism and Art Motives, by C. A. S. Williams, Dover reprint or the 1941 edition, 3rd revised edition (1976), p. 148.
GYOKUHANKAN MŌKŌ
玉旛竿孟康
ぎょくはんかん.もうこう
CHINESE NAME: MENG K'AN
(or Meng Kang)
NICKNAME: THE JADE FLAGPOLE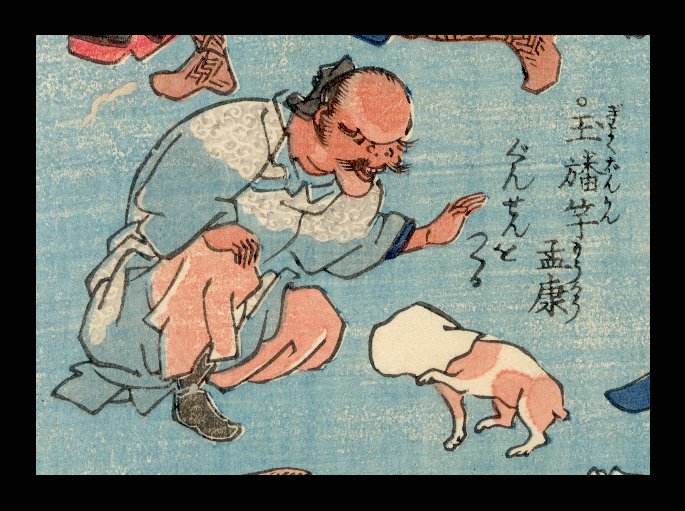 Mōkō appears in chapter 44 of the "Outlaws of the Water Margins". His buddy Kaganshungei Tōhi describes his friend: "He used to be a boat builder... He was constructing a large vessel to transport a load of marble. But the official in charge kept hurrying and persecuting him to such an extent that Meng [i.e., Mōkō] killed him." He left his family and became a robber. "That was some years ago. Because he's tall and fair and powerfully built, he's given the nickname the Jade Flagpole."(1)
In chapter 96 there is a description of a river battle: "Meng Kang also started to dive into the river. Cannons on the fire rafts all fired together. A projectile from one of them crushed his helmet and pulverized his skull."(2)
So far I haven't got a clue why he is with a cat with a hood on its head. When or if I do find out you will be the first to know.
1.
1. Outlaws of the Marsh, by Shi Nai'an and Luo Guanzhong, published by The Foreign Languages Press, Beijing, 1993, Vol. II, pp. 707-8.
2. Ibid., Vol. III, p. 1524.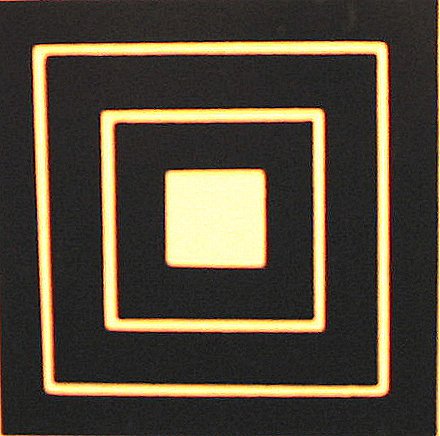 HOME