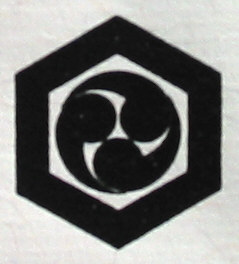 JAPANESE PRINTS
A MILLION QUESTIONS
TWO MILLION MYSTERIES
Ukiyo-e Prints
浮世絵版画
Port Townsend, Washington
THE MANY USES OF EBI
or as we like to say
A WORD IS WORTH A THOUSAND PICTURES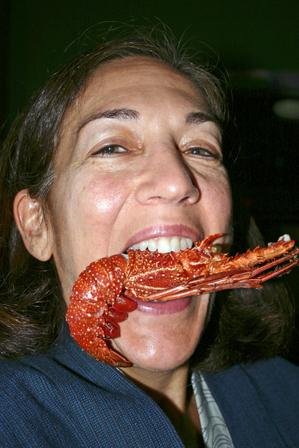 ABOUT THIS PICTURE:

Last fall, October 2004 to be exact, a couple of friends of mine traveled to Japan. They are bright and fun loving and I can only believe that they were having a great time when they took this photograph. Either that or they are taking the concept of sashimi to new extremes.

I want to thank my friends, especially the wife who wishes to remain anonymous for obvious reasons, for letting me use this image. I love it. Shades of Woody Allen.
HOW THE SHRIMP

GOT ITS SHAPE

A long time ago a big bird, in fact, a really big bird kept getting compliments on his size. This caused him to swell with pride and so he set out on a great journey so everyone could see how large he was. During a particularly long flight over water he tired and looked for a safe place to land. Finally he saw a pile of 'debris' sticking up out of the water. So, he set down there. With that a voice said "Who is perched on my whisker?" The speaker was an Ise shrimp. The bird identified itself and bragged about its size and its journey. To that the shrimp replied that the bird couldn't be as large as he and that gave him the idea that he should go off on a journey to show everyone how much larger he was. He set off but after a while he too grew weary and decided to rest in a convenient cave nearby. Once safely ensconced the shrimp heard a voice which said "Who is that in my nostril?" That came from a very large fish which suddenly sneezed extremely hard blowing the shrimp out of its nose sending it hurtling through the air until eventually he crashed into a high cliff. That is how the shrimp got its shape.

Moral

Look what excessive pride can do to you.

***********

Immediately above is an 1832 print by Hiroshige of an Ise ebi and ebi.

I want to thank our contributor E. for helping me determine

the authenticity of this particular print. Above that is a detail of most of a print by Kuniyoshi ca. 1837. It is from an untitled series of birds and beasts and may well be a reference to the story of how the shrimp got its shape.

***********

There are several local variations on this story. The one above comes from Ehime. But there are others. The Shizuoka, Okayama and Yamaguchi versions are called "Why the shrimp's back is bent" (Ebi no koshi ga magatta wake.) Another is entitled "Comparing sizes" (Ōkii kurabe.) We all know about that one.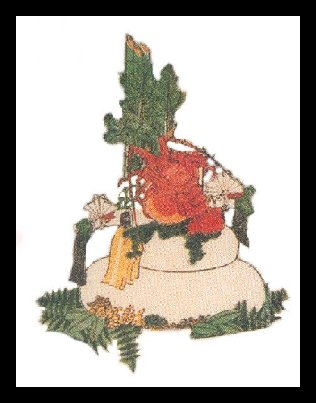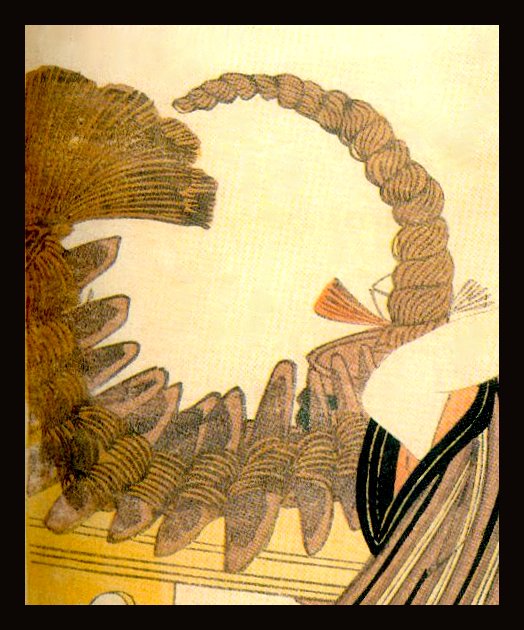 Above is a detail from an early Kunisada print from ca. 1812 showing a shrimp-shaped

wreath made of dried bonito woven together through the use of straw ropes.

I have included it in this section although I am not absolutely sure it was meant for

a New Year's decoration.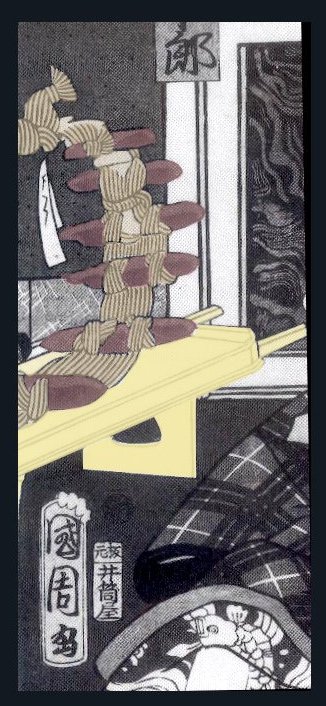 Above is a detail from a print by Kunichika from 1862. Like the one shown above it from fifty years earlier the straw and dried bonito wreath in the shape of an ebi is placed along the left edge of a print. The full prints represent two totally different kabuki plays, but both have the same unusual decoration.

(The coloring in this example is my own and not true to the original.)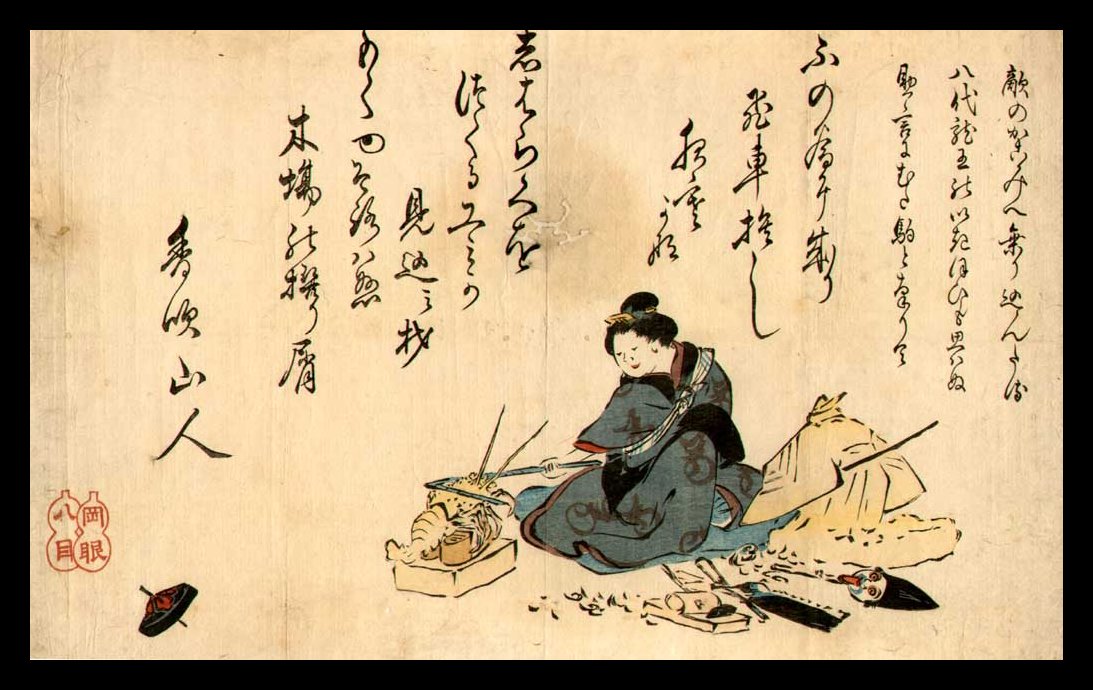 | | | |
| --- | --- | --- |
| | Above is a surimono attributed to Danjuro VII. Private collection. | |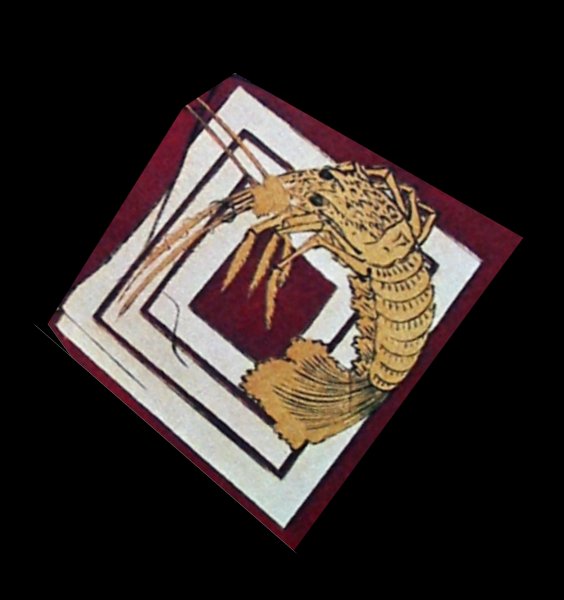 Somewhere someone wrote that it was common to see an ebi accompanying

the standard Ichikawa crest of three concentric squares. This may be true, but

as far as I can tell it isn't. At least I can offer you one good example from a Japanese print.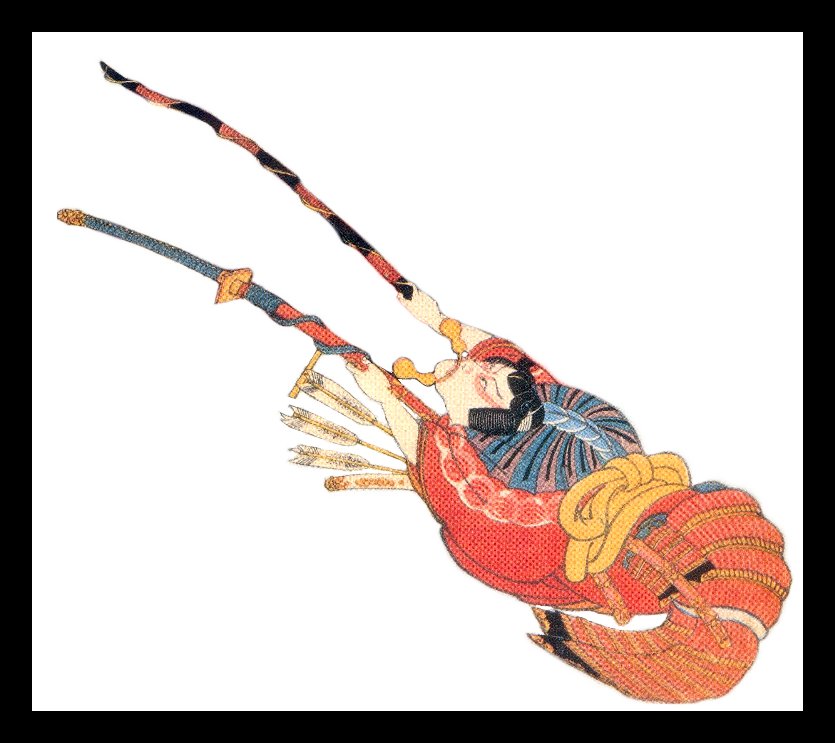 Above is a detail from a print by Kuniyoshi of an actor,

possibly Ichikawa Ebizō VI, caricatured as a warrior shrimp.

Date: 1847-52.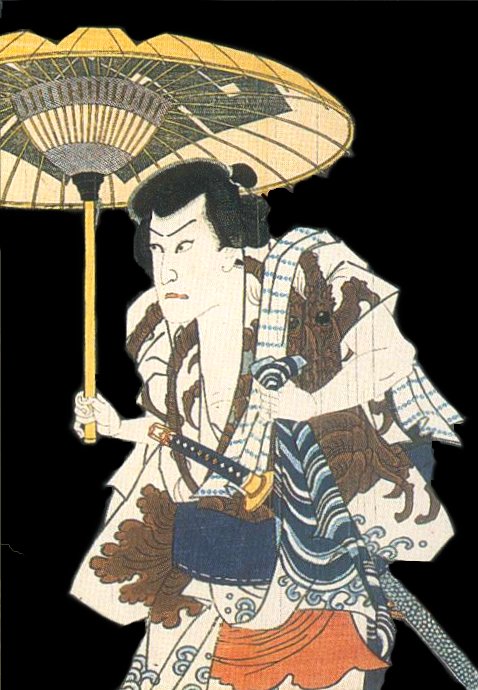 Above is a detail from a print by Kunichika

of an actor as Ise Ebi Higezō.
AS FABRIC DESIGN

WITHOUT SYMBOLISM?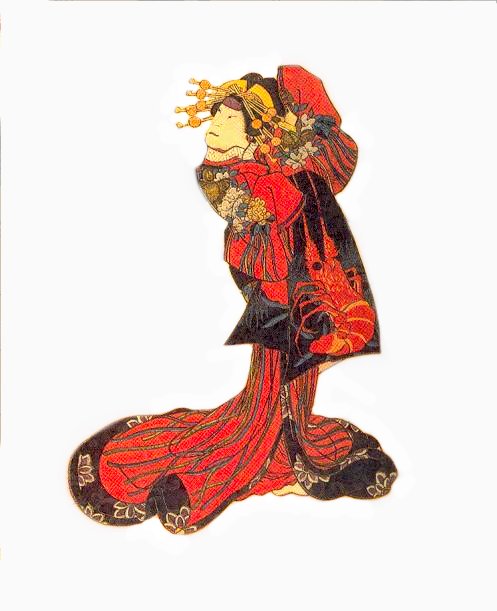 Above is a detail from a print from 1854 by Kuniharu. The male

actor is performing in the role of the "Kyōto Doll" which once

carved comes to life. On her obi is prominently displayed an ebi.

At this point I don't know that this has any significant meaning

and may only operate as a dramatic decorative motif.

Lovely isn't it?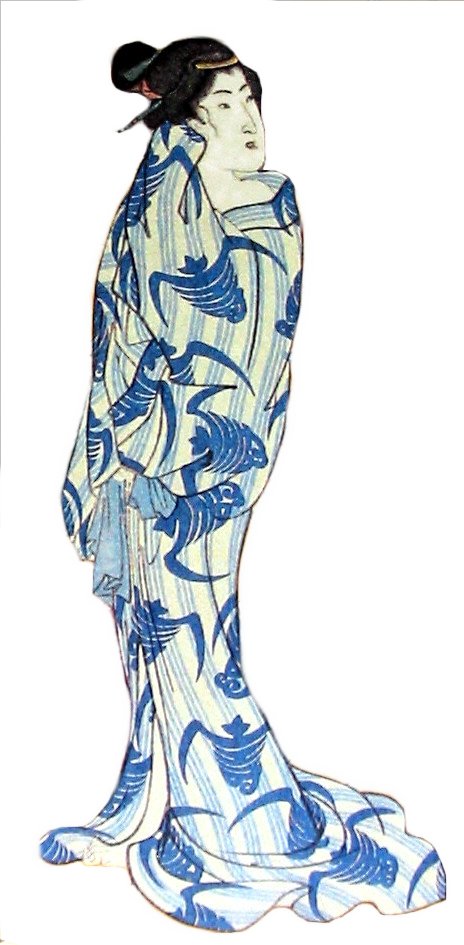 Sometimes a fabric design takes the form of a distorted kanji character

meaning congratulations, but morphs it into an image of a bat --- which

is obviously not an ebi. However, I placed this here because of the section seen

immediately below this one where the kanji does take the form of a

shrimp. This detail is from a Toyokuni III print.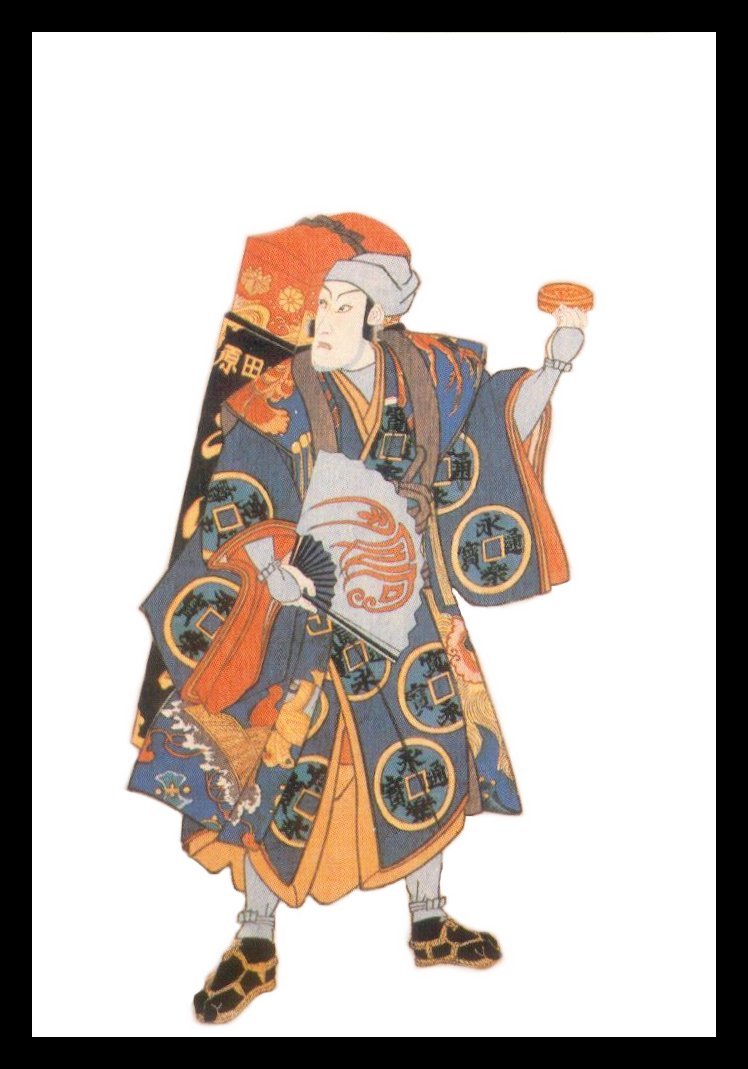 | | | |
| --- | --- | --- |
| | Above is a detail from a print by Toyokuni III. | |
If you look carefully of the ebi pattern on the fan you will realize that it is actually a kanji character. It is said to represent the word kotobuki which translates as "Congratulations!" This is a word which would appear occasionally in this form when an actor would have a debut performance under certain specific circumstances. Not only that but it also identifies the actor as one of those in the long line using the name Ebizō.

壽

ことぶき

CONGRATULATIONS!

They say, whoever 'they' are, that if you don't use it you lose it. Well, I obviously lost it. Years ago I took Chinese mainly because I was studying Chinese art. Everywhere could be found a decorative motif on fabrics, on porcelains, on jades, etc., with the character 'shou'. I knew its symbolic meaning well at the time and why it was there. 'Shou' was written as 壽 and by itself meant 'old age' or 'longevity'. However, by itself in Japan it also came to mean 'congratulations' and not just 'long life'.

In modern usage some characters have been given a shortened version of longer, older ones. 'Shou' is one of these. Originally it was written as 壽, but today is written as 寿. The second reading is what I had originally posted above, but it just didn't look right so I consulted one of our correspondents, E. Well, he set me right and for this I am grateful. So, to him I say sincerely "壽" with both of its meanings. Thanks E!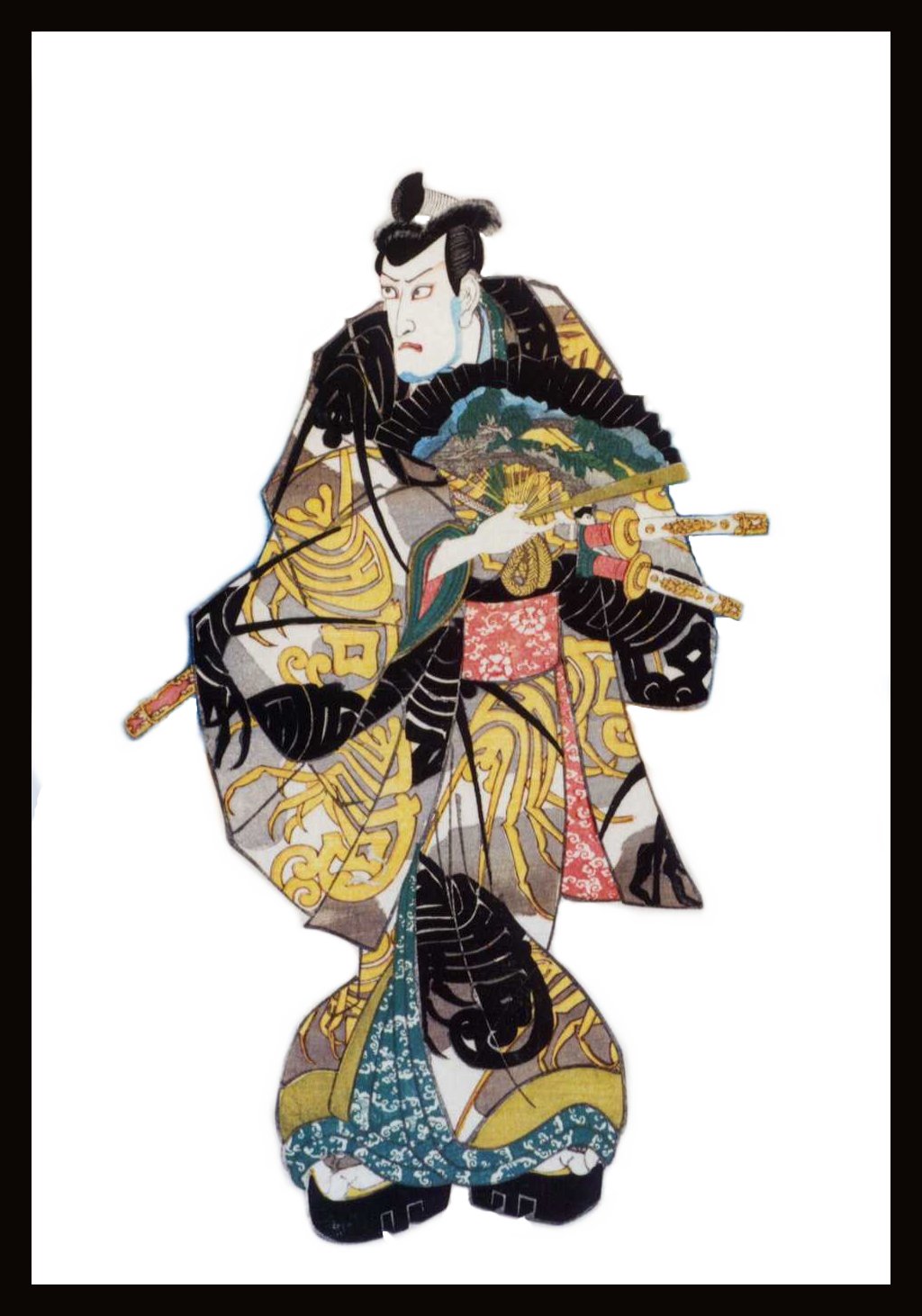 | | | |
| --- | --- | --- |
| | Above is a detail from a print by Kunisada from the late 1830s. | |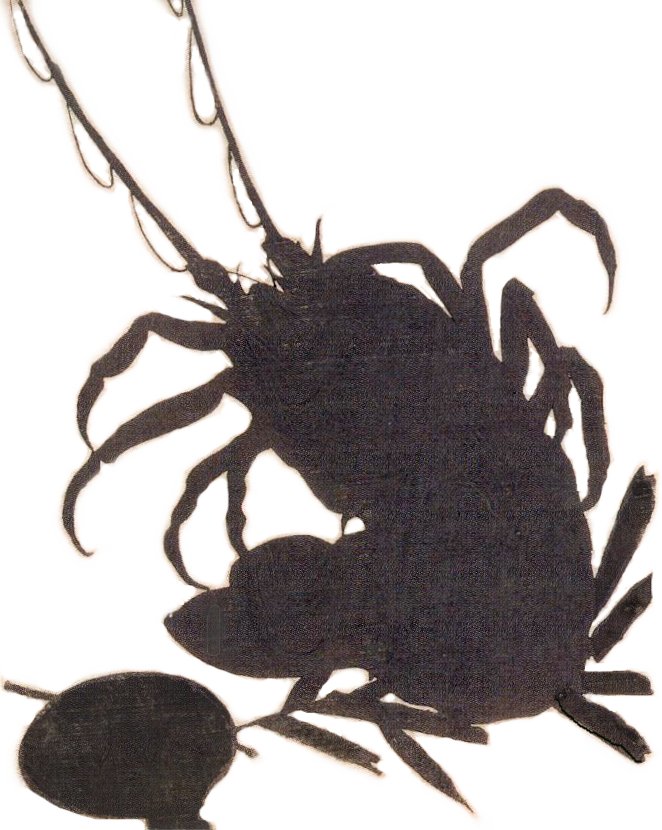 | | | |
| --- | --- | --- |
| | Above is a detail from a print by Kuniyoshi. To see its surprising pendant go to the bottom of this page. | |
Ebie

蛯江

えびえ

Ebisawa

蛯沢

えびさわ

Ebizawa

蛯沢

えびざわ

Ebita

蛯田

えびた

Ebina

蛯姓

えびな

Ebihara

蛯原

えびはら

Ebikai

蛯貝

えびかい

Ebiko

蛯子

えびこ

Ebisawa

蛯澤

えびさわ

Ebidani

蛯谷

えびだに

Ebina

蛯名

えびな

Ebiya

蛯谷

えびや

Ebikawa

蛯川

えびかわ

Ebisu

蛯子

えびす

Ebishi

蛯子

えびし

Ebitani

蛯谷

えびたに

Ebine

蛯子

えびね

Ebin

蛯名

えびん
A GREEN HOUSE

AND ITS

COURTESANS
When is a greenhouse not a green house? The distinction is important --- especially if you are a botanist. Even if you aren't. A greenhouse in the West is, according to the Oxford English Dictionary, "A glass-house in which delicate and tender plants are reared and preserved." A green house, on the other hand, is the name given to brothels in Japan and probably has its origins in a borrowing for that term from the Chinese. We think of a red light district like that of Amsterdam. The Chinese thought of a green door district because that was the color the entry place was painted in their bordellos. Isn't it odd that both cultures focused on the use of different colors as euphemistic ways of referring to whorehouses and their activities?

Seiro (青楼 or せいろう) is the Japanese term and translates literally as 'green tower'. One of the major houses found in the Yoshiwara district of Edo was the Ebi-ya (海老屋 or えびや). Why this brothel called itself the Shrimp House is not exactly clear to me. However, one contributor to this site pointed out to me the other day that in kabuki there is a term used for a kneeling and backward-arching onnagata pose called ebizori (海老反り or えびぞり). Maybe by extension this is how this particular brothel chose its name. But that is just speculation on my part.

Below are two courtesans of the Ebi-ya House. The one on

the left is by Eizan and the one on the right is by Sencho.
| | | |
| --- | --- | --- |
| | OH YEAH...AND SEA CREATURES AND OTHER ANIMALS | |
Ebi

蝦

えび

Shrimp, prawn or lobster

Shiba ebi

芝海老

しばえび

Prawn

Kawaebi

川蝦

かわえび

Crawfish

Kuruma ebi

車蝦

くるまえび

Prawn or wheel shrimp

Ise ebi

伊勢蝦

Spiny lobster

Gama

蝦蟇

がま

Toad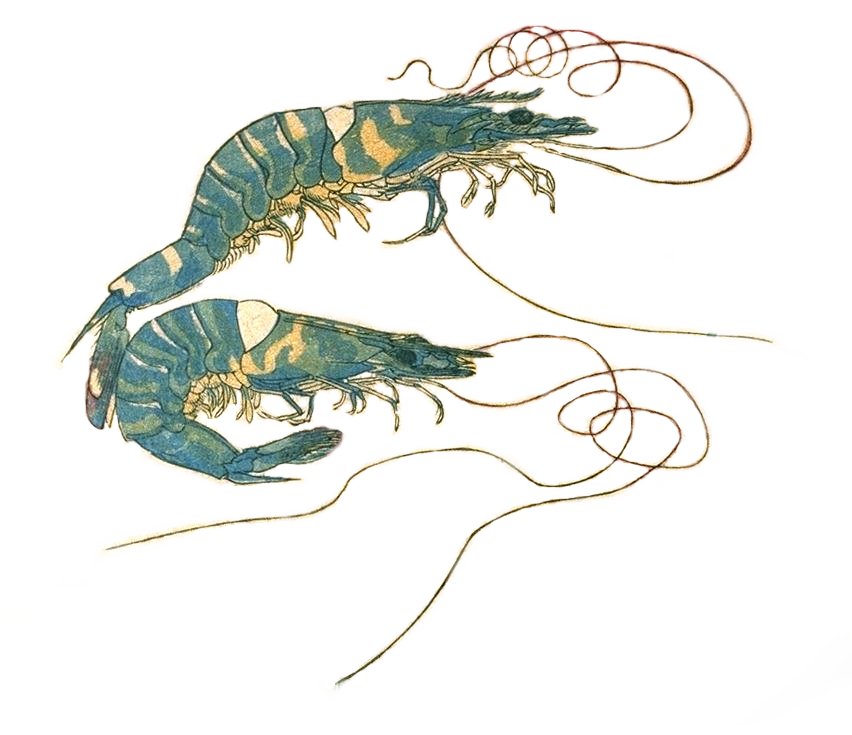 Detail of prawns from a print by Hiroshige published in 1832.

I want to thank our contributor E. for helping me determine

the authenticity of this detail from this particular print.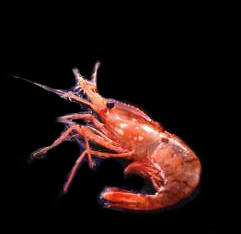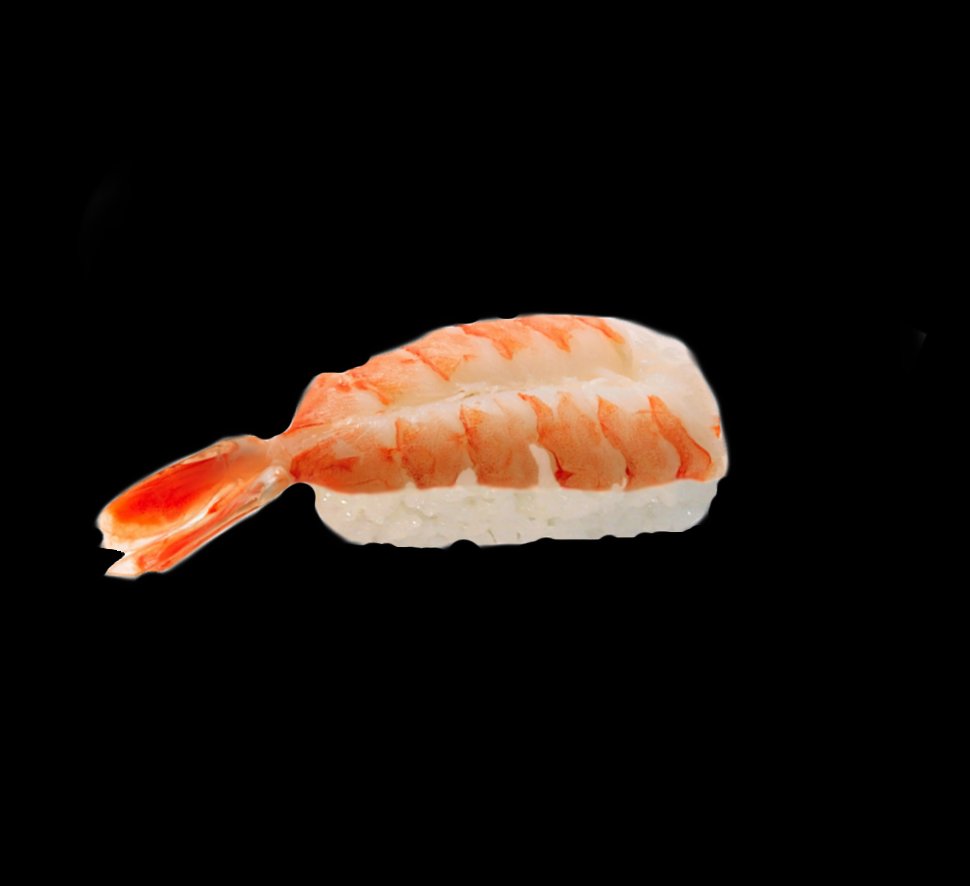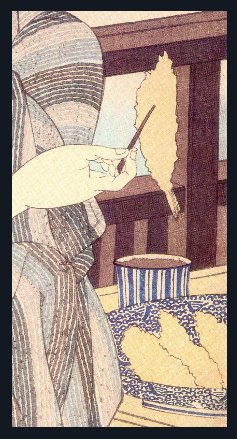 | | | |
| --- | --- | --- |
| | Above is a detail from a print by Yoshitoshi of a woman eating shrimp tempura. | |
Ebi-jō

海老錠

えびじょう

A lock shaped like a fish.
Gamaguchi

蝦蟇口

がまぐち

A handbag

While technically not an ebi word per se handbag is made up of the word for toad plus the kanji for mouth, orifice or opening. A hiki, 蟇, is a toad in its simplest form. But another form for toad combines an ebi character with that of hiki and is vocalized as gama. So...there is an ebi in there somewhere.

As best I can tell this is what the Japanese mean by a gamaguchi. If anyone knows any better please contact me.

Perhaps the name is more descriptive than symbolic: A big mouth and an even bigger belly. Personally I don't know a damned thing about handbags Japanese or otherwise. However, I do want to thank three friends for helping me locate one for this web page. First I wrote Chris and asked him to ask his wife Anne if she had one. Then I asked Anne and she asked Vicki and Vicki came through with flying colors. Of course, it wasn't easy for her because her cat, seen below, was just getting ready to go out for an evening of fine dining and partying. As you can see the cat is dressed up in her finest attire and has that aloof look of a super model posing for a spread in Vogue. But Vicki prevailed and got the cat to wait long enough for her to take a couple of snapshots. Thanks Vicki! You too Chris and Anne.
Ezo

蝦夷

えぞ

Ainu

Detail from a 1871 Kuniteru II print

showing Ainu harvesting seaweed.

Emishi

蝦夷

えみし

Ebisu

蝦夷

えびす
Ebichou

蛯町

えびちょう

Ebidzuka

海老塚

えびづか

Ezo

蝦夷

えぞ

An old name for Hokkaido

Ebina

蛯名

えびな

Ebimasa

蛯政

えびまさ

Ebikawaushiro

蛯川後

えびかわうしろ

Ebijima

海老島

えびじま
Ebi cha

海老茶

えびちゃ

Maroon or reddish-brown

Ebigoshi

蝦腰

えびごし

Bent over with age
Ebi de tai wo tsuru

海老で鯛を釣る

えびでたいをつる

Throw out a shrimp and pull out a whale.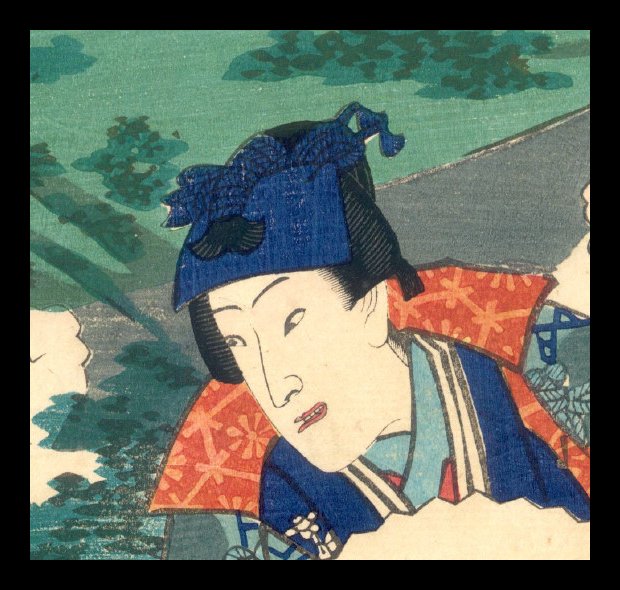 | | | |
| --- | --- | --- |
| | Detail from a print by Kunichika. | |
Sebastian Izzard in his Kunisada's World (p. 166) notes that this artist created the 'shrimp's tail' hairstyle specifically to illustrate Ryūtei Tanehiko's wildly popular novel Nise Murasaki inaka Genji (An Impostor Murasaki and a Rustic Genji).

Izzard even quotes Tanehiko's preface to Chapter 38 where the author discusses this rather odd coiffure:

At first even I thought it a peculiar hair style, but, as I became ac- customed to seeing it reproducted on votary plaques, battledores, and quilted pictures; on offertory articles in temple courtyards at fair time or lanterns hanging from the eaves of the Yoshiwara; on round hand-fans, to be sure, but also in the shape of rice crackers - then even I ceased to think it unusual or bizarre.

Well, I'm sorry, but I still find it a bit silly, even jarring. Tanehiko may have learned to live wtih it, but I'm not that easy. Besides, I can't help but think of the character of Alfalfa in the Our Gang series from the 1930s. I mean, once you have seen him you aren't likely to forget him. Even if he hadn't spoken a word...that hair. Wow! The slicked-down-the-center-part and that oh so present spike at the back. And then...there is always Mad Magazine's Alfred E. Neuman's "What, me worry?" look. He is the Alfalfa persona updated to the 1950s and later with a better hairstyle, but basically the same face.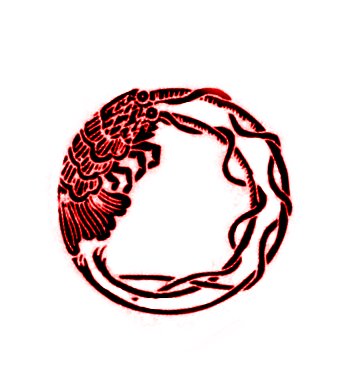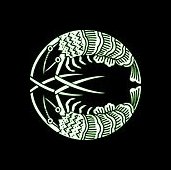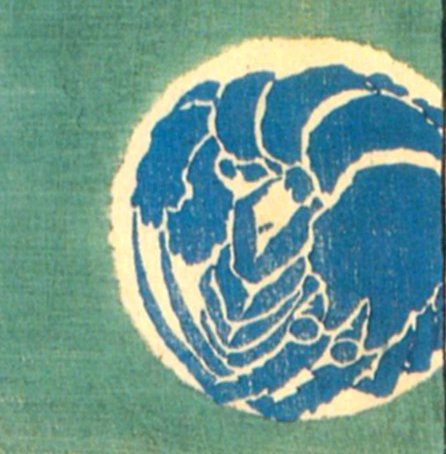 Immediately above is a detail

from a Toyohisa print.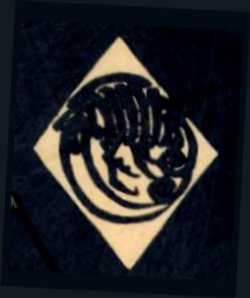 Ebi mon worn on the robe of Ebizō V

in an 1852 print by Toyokuni III
In the Symbols of Japan by Merrily Baird and published by Rizzoli in 1991 it states that the lobster, i.e., ebi is "A symbol of longevity and good fortune..." [p. 147] while the shrimp, also ebi, "...in Japanese art...appears less frequently [than the lobster] and usually without symbolic significance." [p.161] The lobster, on the other hand, "...is a staple of New Year's decorations. It appears occasionally as a family crest, adorns textiles, especially those stencil-dyed and worn in informal contexts, and is found on a variety of applied art objects..." [p. 147]

Baird also notes that the lobster is sometimes included in the shimekazari (注連飾り or しめかざり), a twisted straw rope festooned with propitious symbols such as a citrus fruit, ferns, etc., used during the New Year's celebrations.
AS LIFE'S AMBITION

OR

WHAT DO YOU WANTA BE

WHEN YOU GROW UP JOHNNY?

(ANSWER: A SHRIMP, OF COURSE!)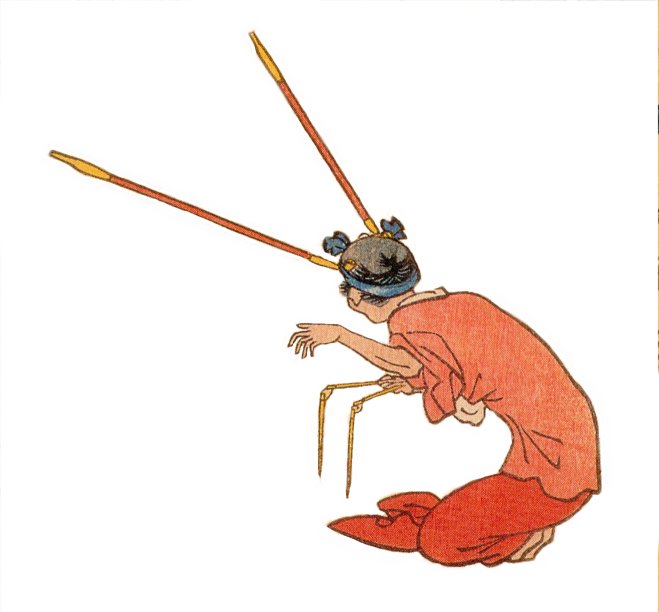 | | | |
| --- | --- | --- |
| | Actually I don't have the slightest what this image means. Further up this page is an actor in a similar display. Why? Got me. This stuff is way beyond my comprehension. Perhaps one of you will know. If so enlighten me please. | |
| | | |
| --- | --- | --- |
| | Kuniyoshi (1797-1861) must have been one of the wittiest and most talented artists of any age anywhere. Until you have spent the time studying his work you can't possibly imagine how creative he was. | |