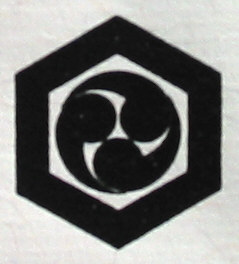 JAPANESE PRINTS
A MILLION QUESTIONS
TWO MILLION MYSTERIES
Ukiyo-e Prints
浮世絵版画
Port Townsend, Washington
UTAGAWA TOYOKUNI I
歌
川
豊国
うたがわとよくに
1769-1825
Subject: This may be a scene from the play
"Mirror Mountain: A Women's Treasury of Loyalty"
Kagamiyama Kokyō no Nishiki-e
加賀見山 (旧錦絵)
カガみやま
Right Panel: Nakamura Daikichi I
中村大吉
なかむらだいきち
Center Panel: Onoe Kikugorō III
尾上菊五郎
おのえきくごろう
Left Panel: Ichikawa Monnosuke III
市川門之助
いちかわもんのすけ
Date: Circa 1815-20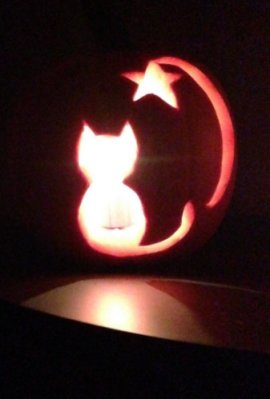 Signed: Toyokuni ga
豊国画
SOLD!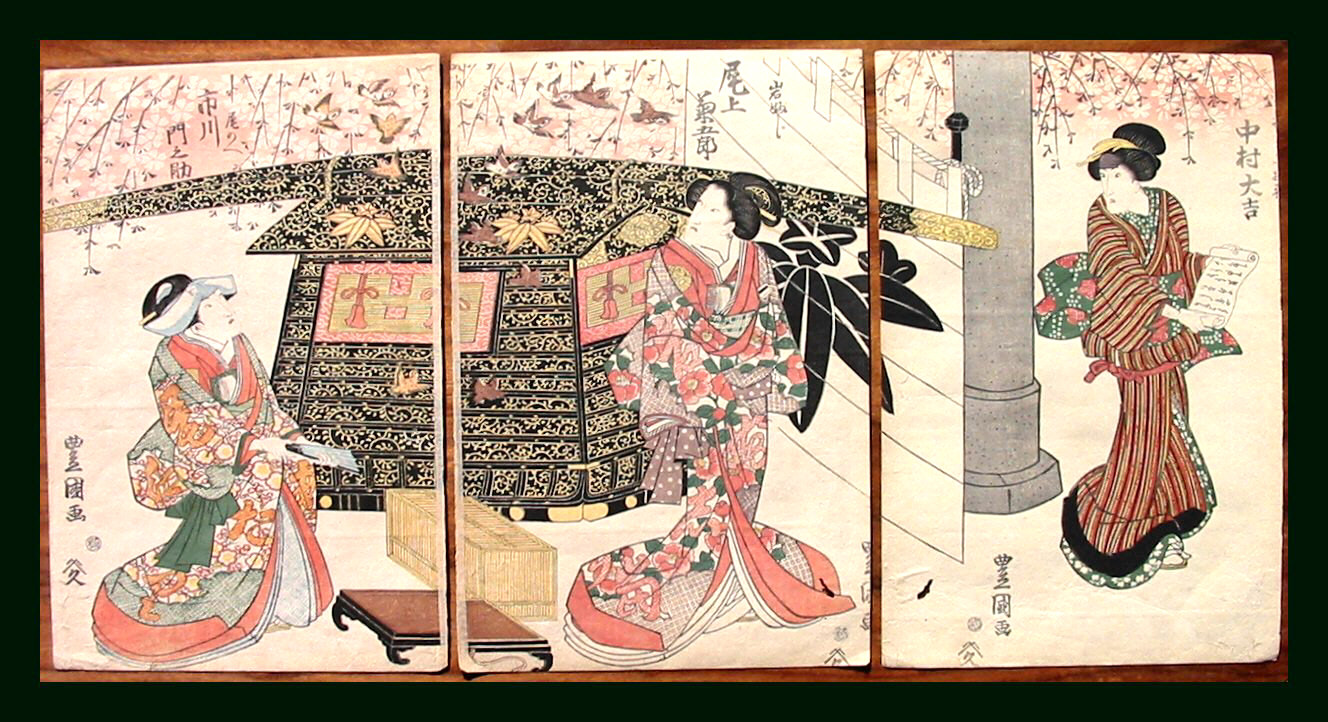 There is a scene in the play "Mirror Mountain" where Kirishima, the head lady-in-waiting to the villainess Iwafuji, says to Ohatsu, the loyal maidservant to Onoe:
"Oh, look, Ohatsu! There in the garden are lots of chirping sparrows."
Quoted from Kabuki Plays on Stage: Villainy and Vengeance, 1773-1799, edited by James R. Brandon and Samuel L. Leiter, University of Hawaii Press, vol. 2, 2002, p. 183.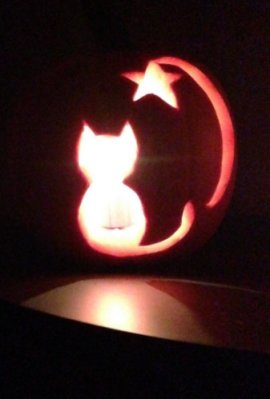 Toita Yasuji in 1969 wrote that "...the scenes of cherry blossom viewing in Shin Usuyuki Monogatari and Kagamiyama Kokyō no Nishikie [are] the two most famous cherry blossom scenes in Kabuki."
Quoted from: Kamikaze, Cherry Blossoms, and Nationalisms: The Militarization of Aesthetics in Japanese History by Emiko Ohnuki-Tierney, fn. 19, p. 36.
Ichikawa Monnosuke

市

川

門

之

助

The detail of the head of Onoe above shows a broken outline on the face. This is a clear indication that this is not a first edition of this triptych because originally such thin lines would have been printed with greater solidity. However, when a print was popular and sold out quickly the publisher must have seen the economic advantage of printing a new edition. Since the average edition would have been something like 150 to 200 copies the finer lines would begin to break down under such repetitious applications of pressure and moisture. To compensate for the loss of line integrity the publisher would occasionally ratchet up the color scheme. Since all prints exposed to the light over an extended period of time fade this triptych must have been even more stunning when freshly pulled.
中

村

大

吉

Nakamura Daikichi I
尾

上

菊

五

郎

Onoe Kikugorō III