Kiyomasa's origins are somewhat obscure. He may have been Hideyoshi's cousin. Their mothers may have been related. He might even have been born in the same village where Hideyoshi was born. What we do know is that he served Hideyoshi from an early age and was handsomely rewarded for his loyalty and became one of his "Seven Spears" or Shichihon'yari (七本槍or しちほんやり).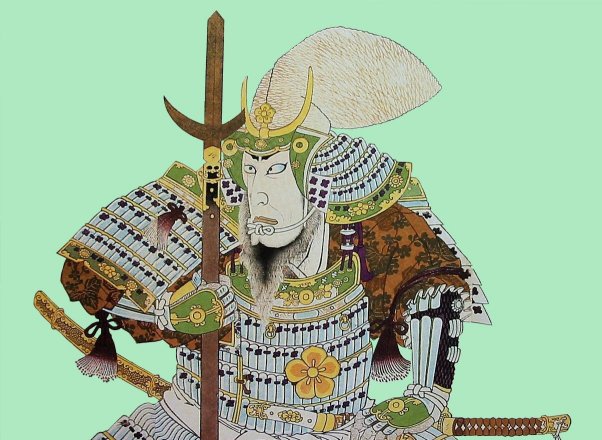 By the time Kunichika created this image of Kiyomasa as portrayed by Ichikawa Danjūrō IX in 1899 the Edo restrictions had been scrapped. Amy
Reigle Newland in here book Time Present and Time Past: Images of a Forgotten Master: Toyoharu Kunichika 1835-1900 (Hotei Publishing, 1999, p. 126)
tells us that in 1842 Danjūrō VII was placed under house arrest for wearing genuine arm and shin guards. By the end of the 19th century there were no
such restrictions. By the way, note the spear. It was real enough to slay a tiger if that became necessary.

During the Tokugawa shogunate artists were prohibited from representing real warriors associated with Hideyoshi. However, if you note the date of this print it comes right at the end of the Edo period and the start of the Meiji. Kuniyoshi had published a similar print forty-five years previously, but the hero was identified as a 6th century figure, Kashiwade no Hanoshi, who was sent as an envoy to Korea. However, Kuniyoshi's contemporaries would have recognized the veiled reference to Kiyomasa. Censor's proscribed the use of any real names of figures who lived after 1573.
Remember Yoshiiku was taught by Kuniyoshi. Both used gourds as seals on these prints. Is it a coincidence that Hideyoshi's battle standard depicted 1,000 gourds? Probably not.