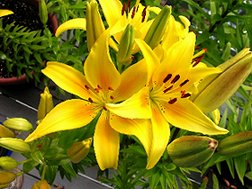 In 1940 Edwin Reischauer published a paper called The Thunder-Weapon in Ancient Japan. He noted that by the time of the T'ang dynasty the term for thunderbolts was 'stone axes of the thunder lord', but by modern times they were referred to as 'thunder axes' or 雷斧. While the Japanese did not adopt this term from the Chinese very early they did seem to share the concept of stone weapons being linked to thunderbolts somehow. The ancient Japanese word for thunder was ikazuchi. "I believe [this word] may originally have meant 'the august (ika) club (tsuchi),' which corresponds almost perfectly to 'thunder club' (raitsui), the modern term for stone maces."
In the 9th century when the priest Ennin (円仁 or えんにん) sailed to China his ship was caught in a storm and lightening struck and destryoed the main mast. He wrote in his diary "Since the stone god 石神 shook and sounded, we raised anchor and returned (up the bay)." Reischauer concludes that "...the 'stone-god' is in some way a reference to thunder, presumably because of the identification of stones with thunderbolts." A few days later when a crow circle overhead three times while they were also hearing distant thunder Ennin and the ship's crew prayed to the god of the thunderbolt - along with other gods - for salvation. Their prayers were answered.
The etymology of the modern word for thunder, kaminari, may be 'the sound (nari) of the gods (kami)'. During another storm Ennin wrote that he and the crew "...waved such things as spears, axes, and swords and shouted with all our might in order to fend off the thunderbolts." Matsumoto Nobuhiro (松本信廣 or まつもと.のぶひろ) in his 1928 study on Japanese mythology noted that thunderbolts could be represented by 'arrows, hoes, lances and swords.' In the Nihongi from the 8th century a monstrous serpent is referred to as thunder. Ennin described a severe thunderstorm as sounding like dragons fighting. He added that this could be accounted for by the large number of dragon palaces in that region.
A note of caution: Oddly shaped stones had a long tradition in Japan as being revered as homes of the kami. This is aside from any other connection between stones and thunder. The most famous 'stone god' shrine in Japan lies south of Nara. The main object of worship at this shrine is a sword given by the Thunder-deity Takemi-kazuchi-no-kami (建御雷神) to Jimmu (神武天皇 or じんむてんのう), the mythical first emperor. The name of the sword includes the characters for thunder and cleaving. The greates sword, the 'serpent cleaving blade', was that of Susanoo-no-mikoto - the greatest 'storm-thunder-god' of all.
Another cautionary note: Places with the name Ishigami (石神) tend to be located in eastern and northern Japan, but appear to have no connection with 'thunder-gods'. In fact, but they may not even be related to 'stone-gods', but rather, according to Yanagita Kunio, may simply be so-called for phonetic purposes.