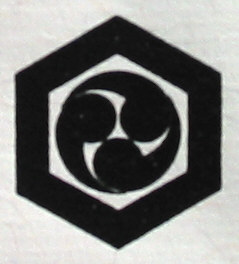 JAPANESE PRINTS

A MILLION QUESTIONS

TWO MILLION MYSTERIES
Ukiyo-e Prints
浮世絵版画
Port Townsend, Washington
UTAGAWA TOYOKUNI III
三代歌川豊国
さんだい.うたがわ.とよくに
1786-1865
SUBJECT: Shoki (鍾馗) astride a lion
DATE: 1854, 5th Month
Ansei 1
安政1
PUBLISHER: Ki-ya Sōjirō
木屋宗次郎
きやそうじろう
SIGNATURE: Hanabusa Itchō [something] Toyokuni hitsu
英一蝶(?)豊国筆
はなぶさいちょう(?)とよくにひつ
SIZE: 14 1/2" X 9 3/4"
SOLD!
I want to thank our correspondent E for assisting me with this page.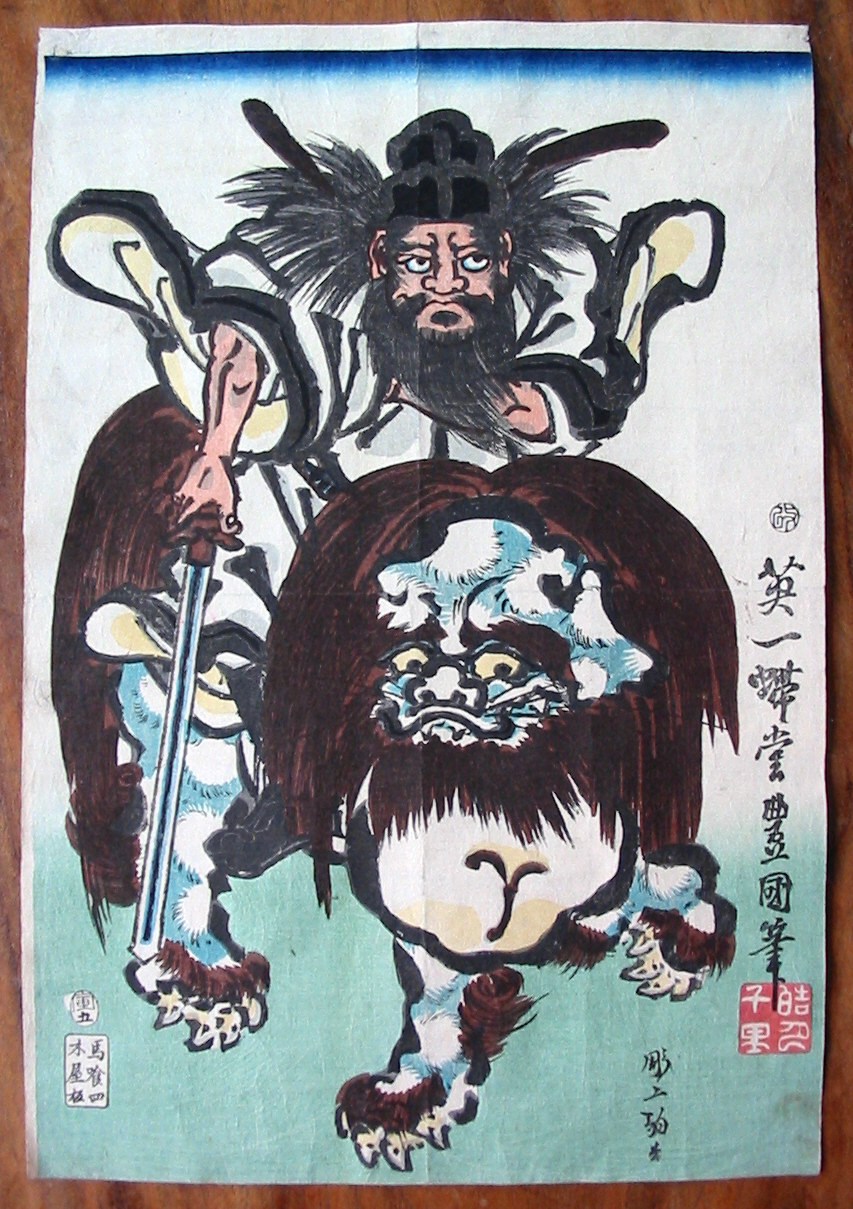 PRECEDENTS
In 1950 T. Volker published in Leiden The Animal in Far Eastern Art and Especially in the Art of the Japanese Netsuke, with References to Chinese Origins, Traditions, Legends, and Art. "The lion is the mount of Monju-bosatsu (Sanskr. Ma˝juśrī) and of the rakan Shubaka and other exalted personages. Sh˘ki (Ch. Chung K'uei) the totally japanized devil queller, goes for his victims, the oni, riding on a lion."
Later Volker noted: "The supernatural power of the lion that made it, notwithstanding its often meek outward appearance, a guardian against evil, is demonstrated by the legend concerning the first pope of Taoism, famous alchemist and demon queller Ch˘dory˘ (Chin. Chang Tao-ling, 34-156) who, when a pupil of his was threatened by the servants of a demon in a magic battle, which servants had been transformed into tigers, created a giant lion that attacked the tigers and put them to flight."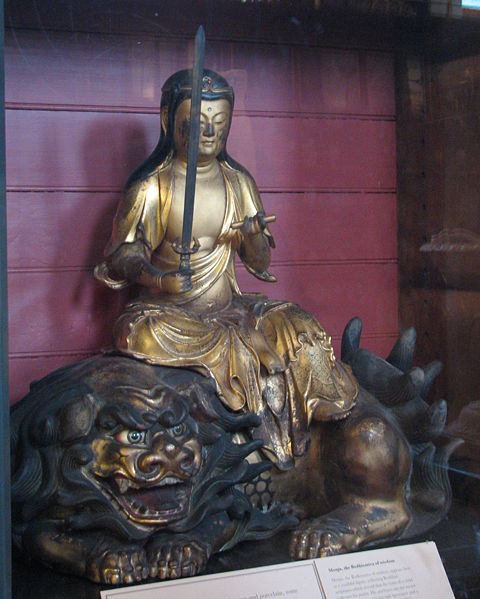 The photo shown above was taken by Mistvan and posted at
commons.wikimedia.org. It is of Monju seated on a lion
and is in the collection of the British Museum.
Prior to the production of this image of the Demon Queller riding on a lion there were a number of specific works with similar themes. A number of these are in the Boston Museum of Fine Arts: 1 & 2) an early 16th c. painting by Unkei Eii (雲渓永怡 or うんけいえいい) of Shoki on a tiger - in another painting the tiger accompanies him; 2) there is a metal sword fitting, a fuchi-kashira (縁頭 or ふち かしら), by Issando Jōi (一蚕堂乗意 or いさんどう?.じょうい: 1701-61) of Shoki accompanied by a lion; 3) another striking sword fitting, this one by Gochikken Masatoshi (呉竹軒正壽 or ごちけん?.まさとし: late 18th to early 19th c.) riding astride a lion face-on; 4) a 19th century painting of Shoki on a donkey; and 5 & 6) an 1858 painting by Kano Kazunobu (狩野一信 or かの.かずのぶ: 1815-63) of Shoki on a horse - there are also Shoki on horseback in metal sword hilts by other artist/craftsmen.
There is also a Koryūsai (湖龍斎 or こりゅうさい: active in the last half of the 18th c.) in the British Museum showing Shoki riding on a - you guessed it - a lion.
DID YOU NOTICE?
98, maybe even 99% plus*, of the prints by Toyokuni III at this time - 1854 - were actor prints. This one is clearly not in that category. That makes it that much more subtle and to our eyes that much more exciting - not to mention the aesthetics of the print. Clearly this image was produced personally by the choice of the artist or by commission. Either way it lies way beyond the norm for Toyokuni III and should be appreciated all that much more for that reason.
*The percentages noted above are strictly our guesstimate.

Above is a variation on this theme.
They all seem to be loosely related.
This image is by Harunobu and is shown
courtesy of my great friend M.L.
HANABUSA ITCHŌ (1652-1724)
and the
KUNISADA CONNECTION
When Toyokuni I died in 1825 Kunisada was miffed that he was not given the honor of receiving his master's name. Instead Toyoshige, Toyokuni's son-in-law, became his successor and began calling himself Toyokuni II. Kunisada refused to recognize this change. He was convinced that he was far more worthy of the name. In fact, many years later he tried to usurp the name of Toyokuni II and was not discouraged in this by his family and friends. They even continued to refer to him that way after his death although you and I know him as Toyokuni III.(1)
Toyoshige was not a bad artist, but the general consensus is that Kunisada was much better. Sebastian Izzard noted Kunisada's displeasure at the events surrounding Toyokuni I's death. "Disappointed at being passed over, Kunisada evidently decided to try something new. He began to study painting under Hanabusa Ikkei (1749-1844), fourth-generation head of the Hanabusa school. The name Kōchōrō, which Kunisada introduced into his signature in 1825, takes the character chō (butterfly) from Itchō, the name of the founder of he Hanabusa school."(2)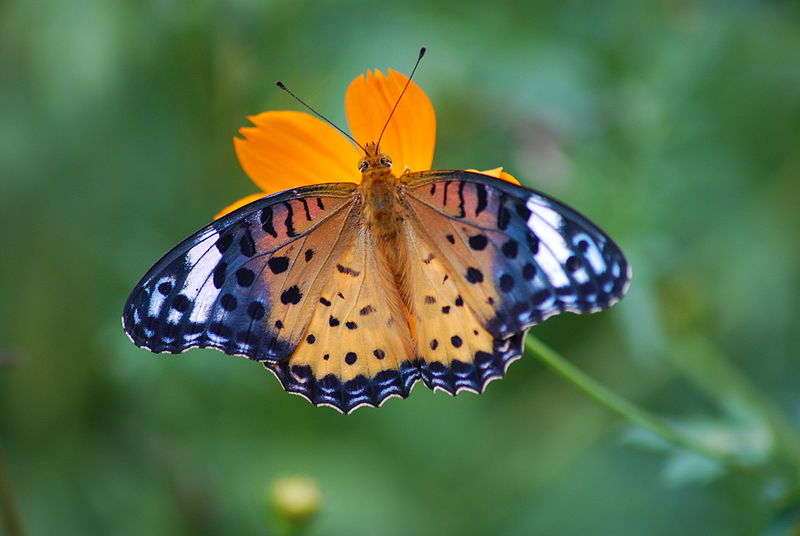 Here is a Japanese butterfly, chō (蝶 or ちょう). It was posted at commons.wikimedia.org by Parag.naik.
Kunisada rarely invoked the name of Hanabusa Itchō in any of his signatures. In fact, as far as I can tell, this particular example may be unique. As yet the fourth kanji character remains unidentified. It does not seem to appear in any other "Hanabusa Itchō" Kunisada signature examples.
1. Kunisada's World, Sebastian Izzard, Japan Society, Inc., in collaboration with the Ukiyo-e Society of America, 1993, pp. 35-6.
2. Ibid., p. 127, cat. #59.