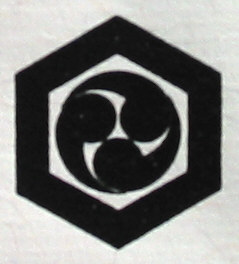 JAPANESE PRINTS
A MILLION QUESTIONS
TWO MILLION MYSTERIES
Ukiyo-e Prints
浮世絵版画
Port Townsend, Washington
TOYOKAWA YOSHIKUNI
豊川よし国
(The Yoshikuni part was corrected on 12/17/12.)
とよかわ.よしくに
fl. 1803-40?
Actor: Nakamura Shikan II
中村芝翫
なかむら.しガン
Role: Nursemaid
Komori
子守
こもり
Play: Rangiku Tsuyu no Adamakura
乱菊露仂枕
らんぎく.つゆのあだまくら
Theater:
Kado (in Osaka)
角
かど
Size: 15 1/8" x 10"
Date: 1827, 10th Month
Bunsei 10
文政10
Signature: Toyokawa Yoshikuni ga
Publisher: Honsei
夲清
ほんせい
This is one of five panels.
Each shows Shikan II in a different role.
Illustrated in
Ikeda bunko, Kamigata yakusha-e shūsei, 1997, vol. 1, #399
There are copies of this print at the Museum of Fine Arts in Boston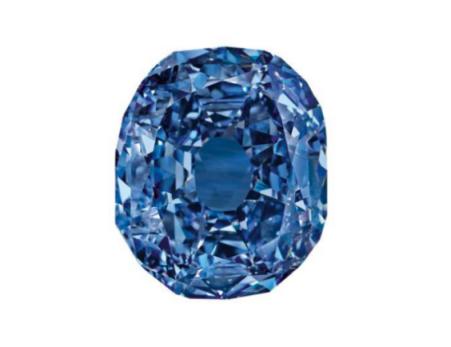 and at the Hankyu Culture Foundation.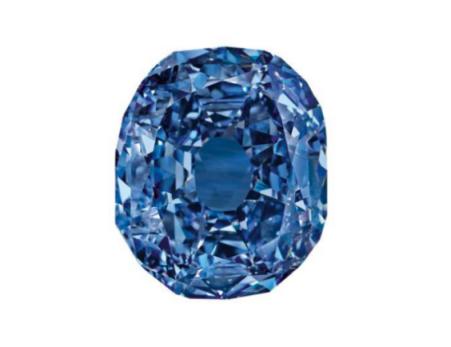 There is also a Toyokuni I from 1818 showing
Nakamura Shikan II as a nursemaid holding a child
and a pinwheel. This can be found at the Hankyu Culture Foundation, too.
ORIGINALLY
$210.00
NOW
$147.00
SOLD!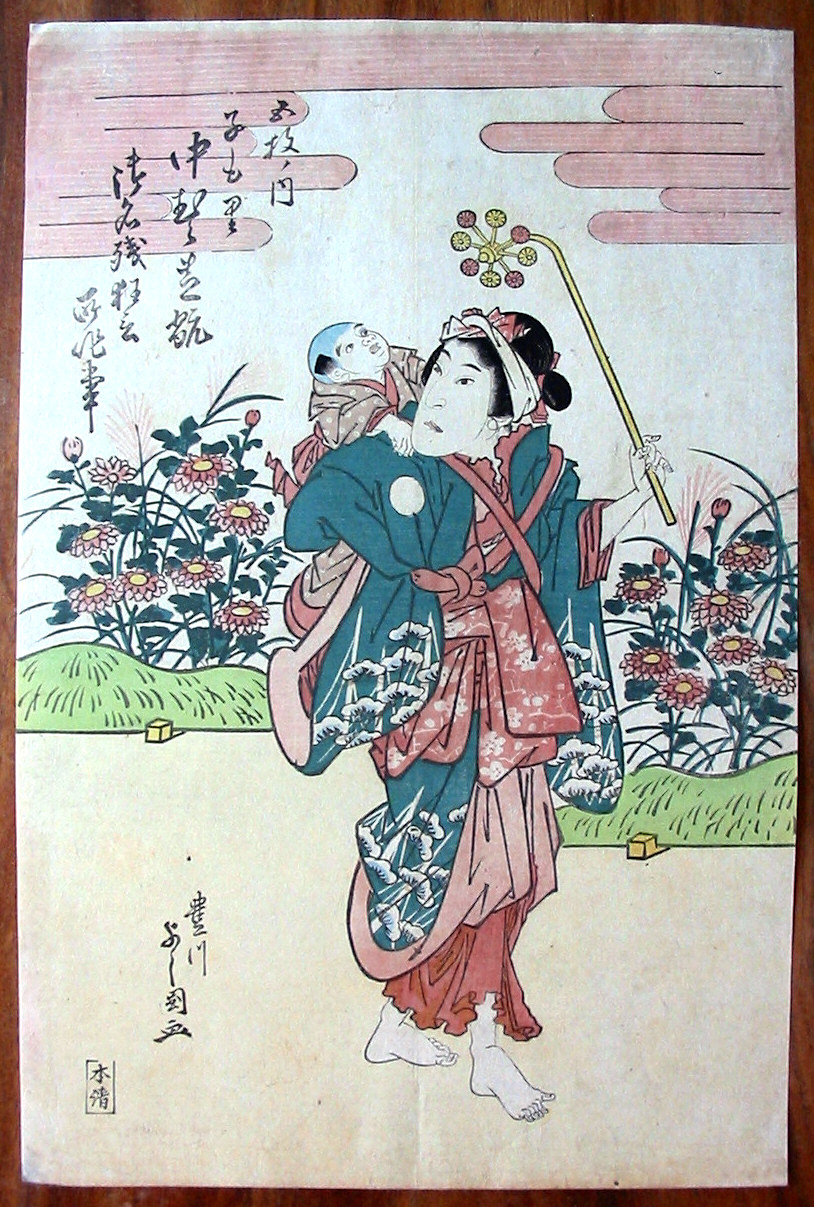 FUJIMA KAMESABURŌ
AKA
NAKAMURA FUJITARŌ
AKA
NAKAMURA TSURUTSUKE
AKA
NAKAMURA SHIKAN II
AKA
NAKAMURA UTAEMON IV
1796? to 1852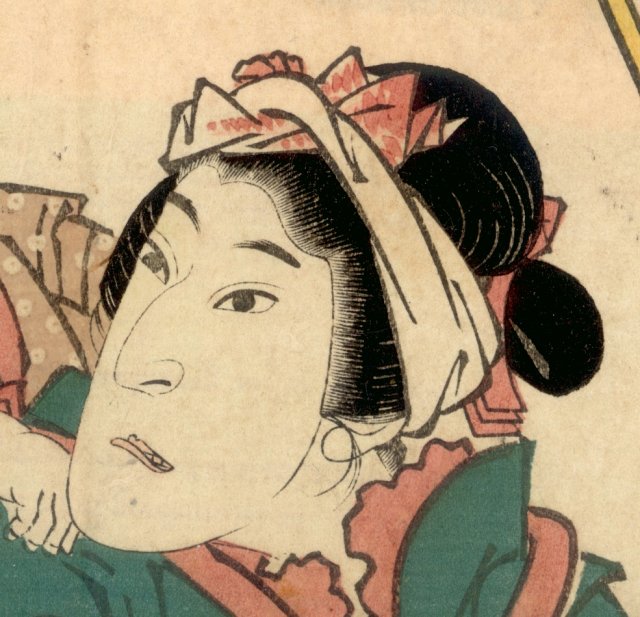 It is not uncommon for an actor to be known by various names throughout his career. In fact, it is the standard. Whether through adoption or advancement names are changed often - especially in the case of those who are particularly adept at their craft. Such is the case of Shikan II who is actually better known as Utaemon IV.
The son of the owner of a teahouse he started his career as a student of an uncle who was a dance master who adopted him in 1807. He worked as a choreographer or furitsuke (振り付け or ふりつけ) until his move to Edo in 1811 when he entered the household of Utaemon III. At that time he took the name Nakamua Fujitarō. In Osaka in 1813 he changed it to Nakamura Tsurusuke. "In 1825 he became Shikan II while playing in Kyoto." By 1827 he was so successful that the government placed him under house arrest in Edo because of his lavish lifestyle. (This was not an isolated incident. Several other prominent actors and artists suffered the same fate at various times in their careers.)
In 1836 Shikan II was adopted by Utaemon III who changed his own name to Tamasuke. That allowed Shikan to become Utaemon IV. Although he was a large and imposing figure his abilities allowed him to play even female roles with aplomb. "Such versatility earned him the title kaneru yakushu...[兼ねる役者 or かねる.やくしゃ - an 'all-around actor' or 'a man of a thousand faces'.]
Source and quotes from: New Kabuki Encyclopedia, Samuel Leiter, Greenwood Press, 1997.
NAKAMURA SHIKAN II

Must Have Been One Heck of a Versatile Actor

Below are four of five oban prints which includes the image featured on this page. Each print represents Shikan II as a different character within this play. Peter Sellers performed a similar theatrical feat in Dr. Strangelove.

None of the other examples shown here are for sale. We have posted them in order that you might get a more complete idea of the role of the nursemaid print within the set.
THE JAPANESE PINWHEEL
KAZAGURUMA
風車
かざぐるま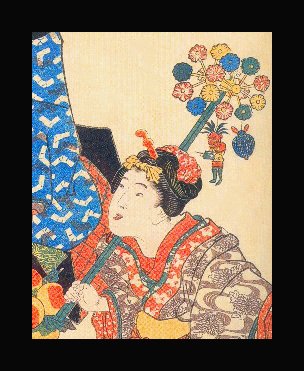 As a child I was fascinated by pinwheels. Don't know any that weren't. Some people never grow out of it. Even today I see them everywhere.
When I ride my bike around Port Townsend it would be difficult to count the number of yards with them. And those are the only ones I can see. They're ubiquitous.
Yoshikuni was as famous as a poet as he was an artist. According to Roger Keyes he "...was active as a print designer between 1813 and 1830... He may have been the son of Hakuensai Baikō, the late eighteenth century Osaka poet who was the proprietor of the publishing firm Shioya Saburobei. Yoshikuni may have begun his career in 1800 with a poetry anthology, and could have designed two or three prints that appeared with the signature Jukō in 1813. Although his career as a print designer ended around 1832, he seems to have continued his activity as a poet, leading the Jukōsha poetry group whose members designed actor prints."
Quoted from: The Theatrical World of Osaka Prints, by Roger Keyes and Keiko Mizushima, published by the Philadelphia Museum of Art, 1973, p. 252.
In a section called 'The Rise of New Artists' Dean Schwaab noted that shortly after 1810 several significant artist all appeared on the scene in Osaka at about the same time. Yoshikuni (i.e., Jukō/Ashimaro) was among them. Jukōdō Yoshikuni published one print under the name Jukō in 1813. "He then moved to the Ashikuni school under the name Ashimaro. Only two compositions under this name are recorded..." Then he changed his name to Yoshikuni. In mid-1817 he collaborated on prints with Ashiyuki and Ashihisa. Later he worked with several other artists including Shibakuni, Ashiyuki, Kunihiro, Tamikuni, Hikokuni and Hokushū. From 1820 to 1832 he produced approximately 120 compositions. 61 of these represented Utaemon III.
Source and quotes from: Osaka Prints, by Dean J. Schwaab, published by Rizzoli, 1989, pp. 22 & 25-27.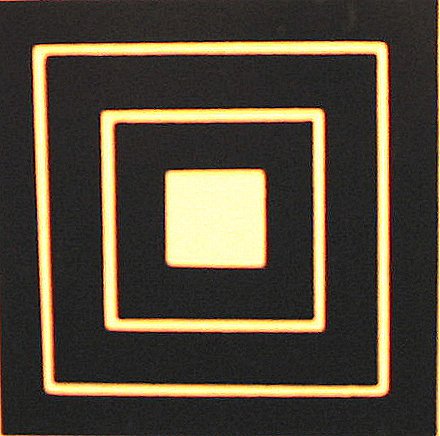 HOME